Emmy Noether's abstract symmetry
2016

---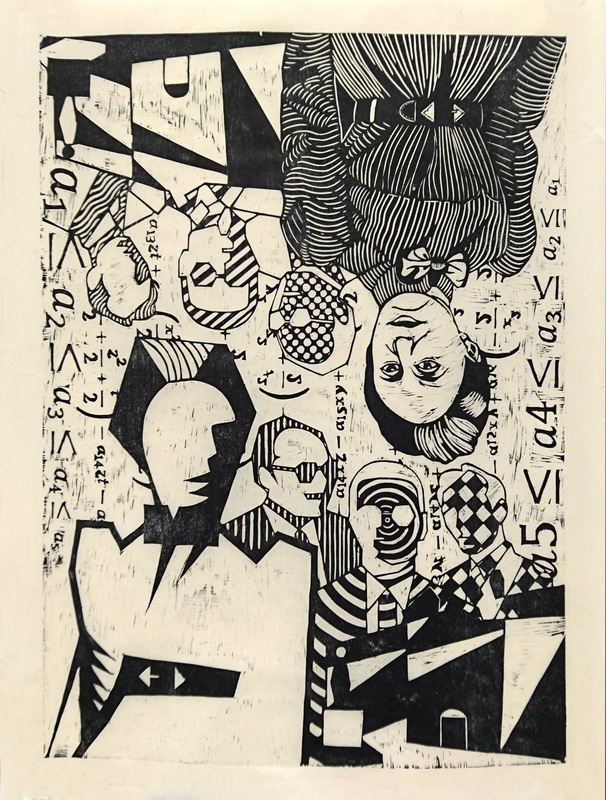 Amalie Emmy Noether was a German-born mathematician who, during her short lifetime, did the world the small courtesy of redefining modern physics. She started her academic career studying French and English with the intention of teaching. However, soon after passing her exams she decided to pursue a career in mathematics. At the time, this was easier said than done, for only two years earlier the university's Academic Senate declared that mixed-sex education would "overthrow all academic order" and then proceeded to continue an ongoing competition to see who could get a pinecone farthest in his ear. Despite obstacles, Noether audited classes and ultimately passed her final exams, earning her a bachelor's degree in mathematics.

For seven years Noether taught mathematics without pay at the University of Erlangen's Mathematical Institute. It was during this time that she was introduced to fellow mathematician David Hilbert. Hilbert and his colleague Felix Klein soon invited Noether to be an instructor at the University of Göttingen, where she had studied once before. But once again, Noether's involvement was met with opposition from the philologists and historians among the philosophical faculty. One faculty member was quoted to have said, "What will our soldiers think when they return to the university and find that they are required to learn at the feet of a woman?" His eyes then went cross as he removed his left shoe to begin chewing on it while humming "O Tannenbaum."

Early on, Noether had no official position at the university. Instead, she would give lectures under Hilbert's name. It was here that she developed what would come to be known as Noether's Theorem, which explained how conservation law associated with any differentiable symmetry of particle physical systems. Because of the importance of this discovery, the university offered her the title nicht beamteter ausserordentlicher Professor (an untenured professor with limited internal administrative rights and functions). The institution still refused to pay her because the administration had managed to get the pinecones all the way in their ears.

Soon after, Noether figured that since she had already set a new course for modern physics, she might as well do the same for mathematics as a whole. She did so by making massive contributions to abstract algebra with her paper "Theory of Ideals" as well as her work with ascending chain conditions. Because of her brilliance and originality, she gained a following of loyal students often referred to as "Noether's boys." "Noether's boys" were a remarkable group of young men capable of walking and talking at the same time without drooling all over themselves.

​Unfortunately, with the rise of Nazi Germany, Noether was excused from her position at the university for being Jewish. Luckily, by then she had become well known in the mathematics community and was invited by Albert Einstein to move to America. Once there, she got her first paid teaching job at Bryn Mawr at age fifty-one only to die two years later from complications from a simple surgery. She left behind both a stellar body of work and a trail of simple-minded dullards.
Stephen's Pickled Past
​2016

---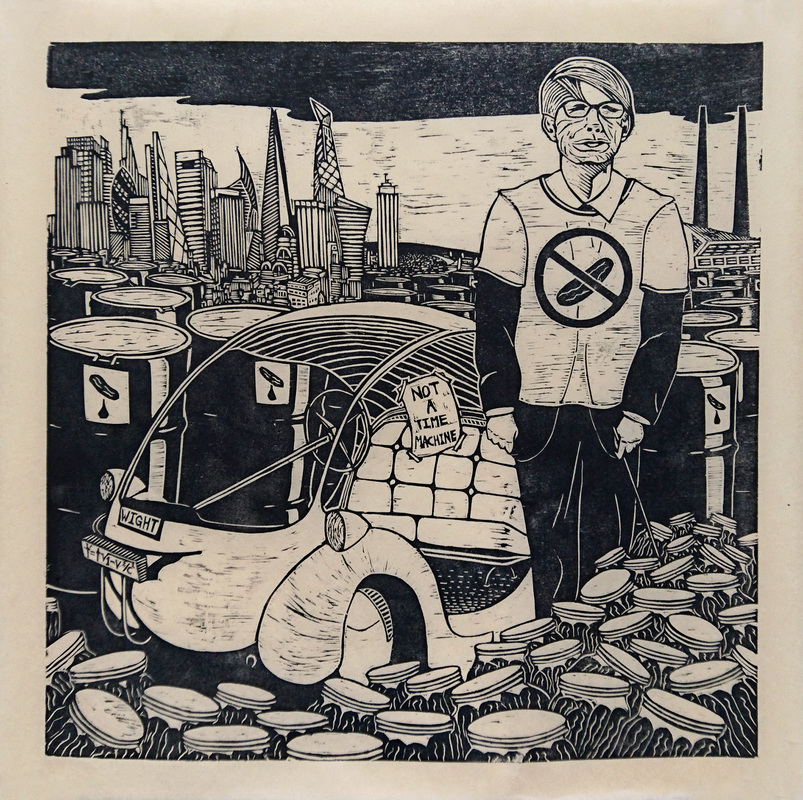 In the distant future, 2105 and a half, the world's fossil fuels supply has been depleted. World leaders, aware of the impending standstill, sprung into action wielding their most powerful of diplomatic weapons, denial. "There is no fuel crisis. We have many solutions lined up. Who's to say there isn't more oil down there? We just need to dig deeper." Incidentally, many oil fields across the globe did dig deep and were rewarded by the Earth's crust collapsing out from under them, leaving them entombed in a burial plot made of irony and hellfire. It was at this point that the powers that be begrudgingly announced, "Fine, we'll source alternative energy, I suppose."

So at last, the world's scientific community was put to task to find a new source of fuel for the world's consumption. First, scientists returned to generating ethanol from corn. Development was going well until an additive that was intended to increase the fuel's potency gave rise to a new subspecies of corn known as "super corn." "Super corn" looked identical to regular corn but with one important difference: it grew thirty feet tall and would exclaim, "Knock, knock," to passersby before proceeding to shuck them to death. So in order to spare themselves a corny fate, scientists started looking down other avenues of inquiry.

It wasn't until a plucky, young scientist named Stephen Hawking discovered that pickle juice and gasoline shared many common properties, not the least of which being a horrible taste. Hawking presented his findings to the senior board of scientists, and the populous as a whole were elated. Unfortunately, the sense of euphoric joy felt by the community at large was short lived. Farmers hoping to get in on the ground floor in the pickle-juicing industry removed all other existing crops and dedicated their fields to cucumbers. Livestock unable to cope with an all-cucumber diet died off in a matter of months, leaving all the world's cuisine reduced to pickles that had been prepared in various states: grilled pickles, fried pickles, mashed pickles, dill pickles, thrilled pickles, spilled pickles, etc. Also, pollution became a problem. The green, foul-smelling smoke that billowed out of the refineries' smokestacks produced a terrible acid rain bound to spoil any black market hotdog or sandwich, should such a thing still exist.

Hawking, feeling responsible for the people's pickle plight, vowed to correct his error at all costs or mild inconveniences. His first mild inconvenience was getting his hands in a wormhole and stretching it open large enough to get his cleverly disguised time machine through it. Since outright buying a wormhole was no longer an option for the ruined scientist, Hawking signed up for the free first month of a wormhole subscription knowing full well that he would never return to this time and wouldn't have to pay for the following month. Once Hawking arrived in the twentieth century, he began legitimizing his career as a world-renowned physicist, using his knowledge of future discovery to wow contemporaries and establish his celebrity status. Hawking, ever dedicated to his cause, employed his influence to deny the possibility of backwards time travel as well as the possibility of using pickle juices as fuel in order to spare mankind its potential pickled peril.
Coffee Run for Eratosthenes
​2016

---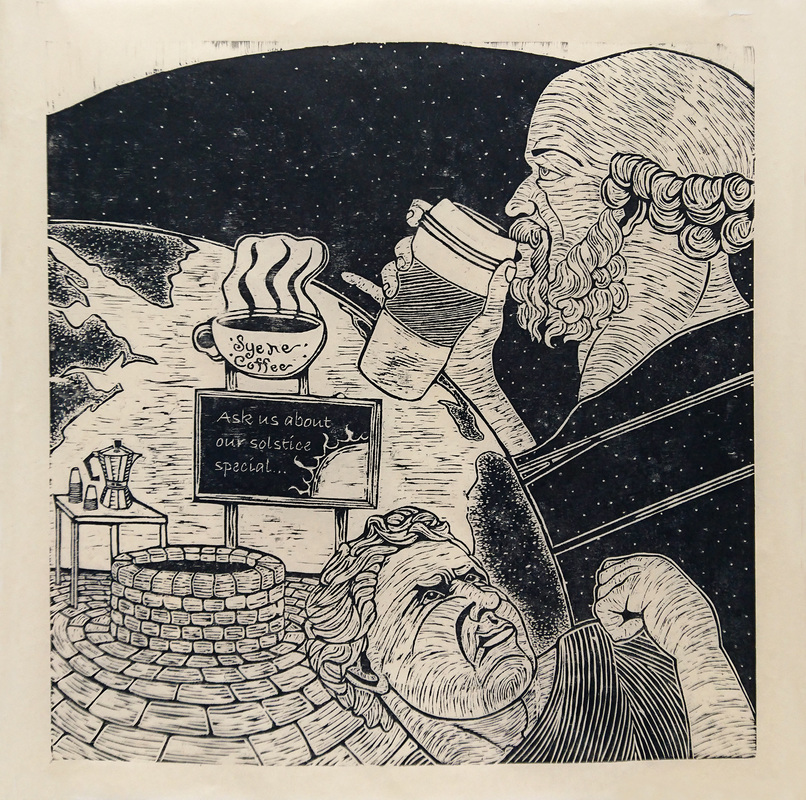 The year is 210 BC, Eratosthenes sits in his chair at the library of Alexandria sipping some wine from a kylix and reading his morning scroll. When he spots an article about a hip new dink you could only obtain by journeying to Syene. Eratosthenes decided right there he wouldn't be happy until he was the first one in Greece to drink this new beverage He went ahead and finished his wine and scroll with his trademarked air of smugness and superiority and called for his assistant Fetchaclese.

After all Eratosthenes was the very first hipster on record. He often bragged that he was in to geography long before it was cool and he knew the tilt of the earth's axis while it was still playing small gigs around town. Eratosthenes even claimed to have part of his nose removed to improve his peripheral vision. Many suspected that he became chief librarian of the library of Alexandria not for a love of knowledge but for the love of looking down his nose at people requesting scrolls on animal husbandry and "idiots scroll to mathematics". Often rolling his eyes and remarking "how quaint" as he called on Fetchaclese to retrieve the scroll.

Fetchaclese reported to his master and inquired what task had brought him here. Eratosthenes told him he must make his way to Syene and acquire a new beverage known as "Coffee". Fetchaclese was dismayed and implored that he could not make such a journey on foot and asked if he could use the company horse. Eratosthenes declined arguing that he may need it show a pop up philosophy slam occur in the town square. So Fetchaclese set off on foot for the city of Syene.

Fetchaclese having had made the long hike to Syene as some townspeople where he could find coffee, he was directed to a vendor by the city well. Upon reaching the well Fetchaclese was please to find out that because it was the summer solstice that day he could get the coffee tax free. In Syene the sun is directly overhead during the solstice hence their' slogan "No shadows, no tax". Fetchaclese took a moment to look down the well and see indeed no shadows but his own descended the well, he was then asked if he would like a clay pot drawing of him looking down the well which he declined and headed back to Alexandria.
The trek back was hard and Fetchaclese made many concessions of his own comfort for that of the single cup of coffee he had purchased for his master. At long last Fetchaclese once again found him in the presence of Eratosthenes. Fetchaclese handed it to him with a snide remark "Here's you elixir which I walked halfway around the world to get". Eratosthenes seemed to not register the remark as he turned to reheat the beverage on some Greek fire. Then Eratosthenes counted "Halfway around the world? Hardly. While you were gone I got to thinking about Syene and the sun's rays, knowing distance to Syene is 5,000 stadia and that on the solstice there are no shadows in Syene. I measured the shadow cast by a column here in Alexandria and based on that I calculated that you only ventured 1/50th of the distance around this planet." with that Eratosthenes took a victory sip of his coffee, which he secretly didn't care for but would rave about for years to come. As Fetchaclese clutched his fists in impotent rage.
Rosalind Franklin and the Bio Jerks from Outer space
​2016

---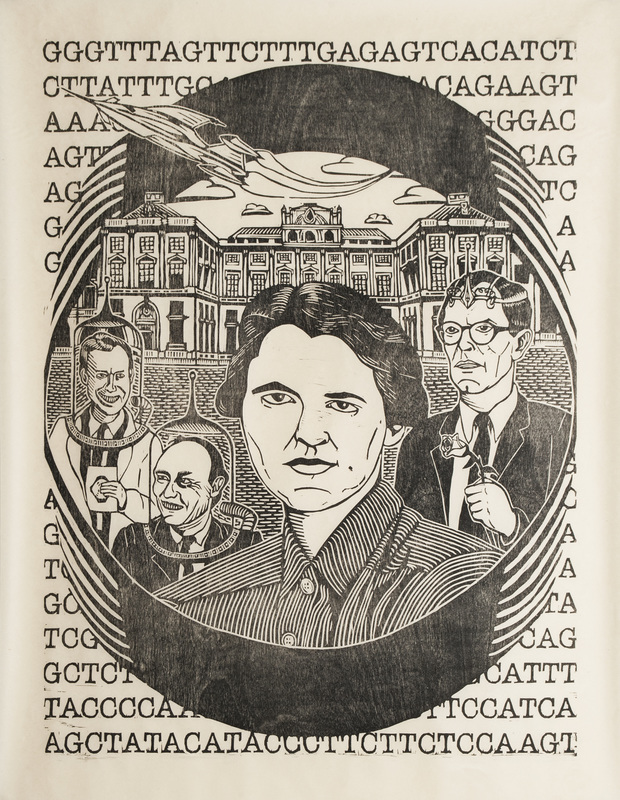 After a 12 light years journey the spacecraft was finally in visible range of planet earth the crew began preparations for landing. The crew set the course for England and the fire ball of a vessel entered earth's atmosphere. The ship set down in a rural part of the united kingdom. Their first contact was a field of sheep, unsure if this was the species they were sent to study, they first tried to communicate with some transmissions they had received from earth. But when the sheep didn't being dancing the Charleston, the aliens were pretty sure these were not humans.

Meanwhile at the Kings College of London a young chemist by the name of Rosalind Franklin was showing up for her first day as the research lab's resident expert on x-ray diffraction. Franklin had been assigned to take over the guidance of Raymond Gosling a grad student who had been working with Maurice Wilkins. Franklin had been hired by John Randall who unfortunately didn't communicate to Wilkins who was away when Franklin started that she would take over and he would be reassigned. This resulted in Wilkins believing Franklin was His new assistant which sparked a bitter relationship between the two. Franklin had a tendency to make intense eye contact and speaking direct and short on patience which intimidated many of her colleagues. This led to her gaining the nickname "Rosie" when colleagues were talking about her behind her back.

During this time at Cambridge University two scientist name Crick and Watson had been working together on a model of DNA for some time. When at last it had seemed that they had cracked it they invited Franklin to come and review it knowing they would need her peer review in order to legitimize their discovery. However when Franklin arrived she immediately began pointing out most of which being that DNA most likely didn't look like a lab rat tied to a orange adorned with a tiny flag on a toothpick reading "DNA". Crick and Watson were humiliated, and after everyone had left the called their alien overlords to report on the events of the day. The overlords were not pleased and it was decided that Crick and Watson would use Rosalind Franklin's work to finish the work that they had come to earth to do. During the transmission Wilkins walked back into the room to retrieve his coat to find Crick and Watson talking to the holographic disembodied head of the overlord.

​Crick and Watson captured Wilkins and outfitted him with a mind control device, after amusing themselves by making Wilkins a umbrella they sent him back to King's college to retrieve the research from Franklin's Lab. When Wilkins returned to the lab he retrieved photo 51, which was the clearest picture of the structure of DNA ever captured at the time. He returned the photo to Crick and Watson who then force him to dance the Charleston while they celebrated and finished there model. When the new model was completed Franklin came to review it and did indeed confirm that she believed the model to be correct. Unfortunately Franklin died soon after and never knew the whole truth of the role she played in one of the most important discoveries in the field of biology made by two aliens bent on world domination.
Origin of Booty
​2015

---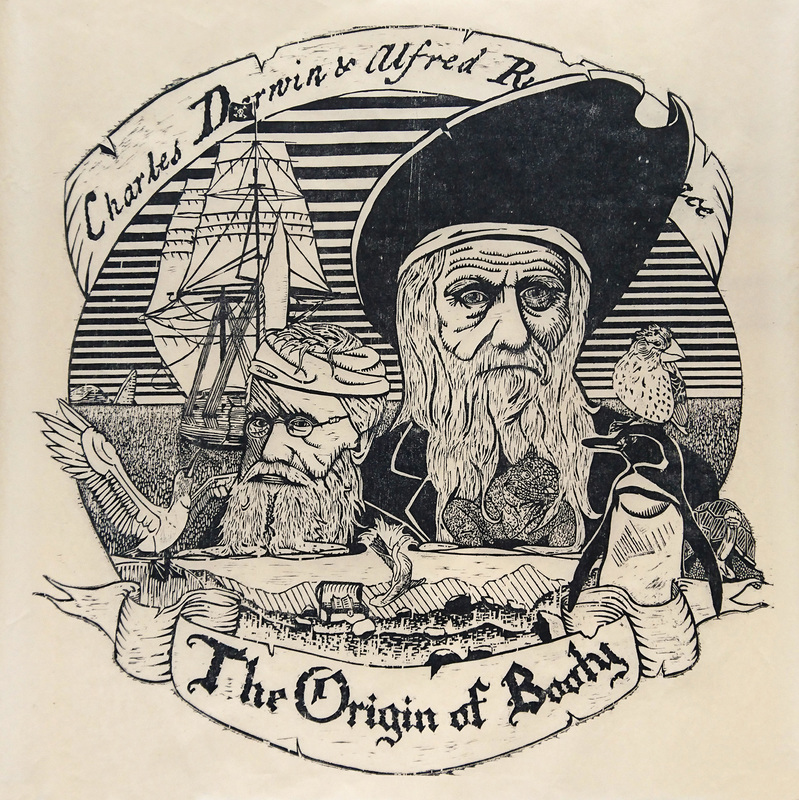 The year was 1858, and a terror plagued the Atlantic. Any sailor with sense enough to know port from starboard knew the legend of a certain ship. It was a ship named for a terrible beast, with fangs like daggers, a roar like thunder, and piercing eyes that would make a man's blood run cold, a ship known as the Beagle. It was said that the ship was crewed by the unpaid interns working under a tyrannical captain, a captain that kept a massive iguana named Gary in his captain's quarters and a finch named Eddie on his shoulder. He was a pitiless man who called himself Captain Darwin.

At the time not much was known about Darwin's past. Some say his parents were eaten by a tribe of cannibals in South America, and Darwin had escaped and drifted out to sea on a plank of wood, on which he lived for seven years. Others say he was an ancient sailor who ate too much shellfish, and at the point of death he offered his eternal service to Poseidon and was granted eternal life as long as he continued to make the sea a treacherous place for men to venture. Another popular story is that he was born in Shrewsbury, Shropshire, England, and was the fifth child of Robert Darwin and Susannah Darwin, a prominent English family.

Meanwhile, another ship was beginning the long journey back to England from the East Indies. Aboard was a naturalist by the name of Alfred Russel Wallace. By no means was this Wallace's first time at sea. He had made many trips like this one to collect samples of exotic creatures, often insects, to sell to museums upon his return to England. But it was on this ill-fated expedition that Wallace first ran across the infamous pirate known as Captain Darwin. Wallace was far from shore in the Pacific ocean when the black banner first appeared. The naturalist's ship was no match for the mighty Beagle and was soon boarded by the brutal Captain Darwin. The victim ship was searched, and at first the pirate crew was confused by the lack of valuables and the abundance of dead insects on board. Wallace was held at knifepoint, and the pirates demanded that he point them to the booty. Since it seemed Wallace was the governor of the voyage, he was taken prisoner aboard the Beagle, and his ship was razed.

Wallace was kept in the brig as the Beagle made its way to the Galapagos, where it has been long-time rumored to make birth. On the way, Darwin would often chat with his prisoner trying to determine Wallace's full value. It was during one of these conversations that Wallace explained the importance of naturalists like himself and that he was on the verge of a breakthrough that may earn him a place in the history book. Wallace further explained his theory of natural selection to Darwin, and the shifty captain began to form a plan.

Darwin had been gradually growing tired of his life of piracy. Pillaging and murdering had become humdrum activities, but in Wallace he saw an opportunity for something else. Upon the Beagle's arrival to the Galapagos, Darwin's mind was made up: he decided to maroon Wallace on the island, take his research, and return to England to take his place as a respected and revered member of the scientific community. Using Wallace's idea of natural selection, he published The Origin of Species and cemented his place in history. Wallace, on the other hand, spent the rest of his days talking to tortoises on the Galapagos.
Radi-yums
​2014

---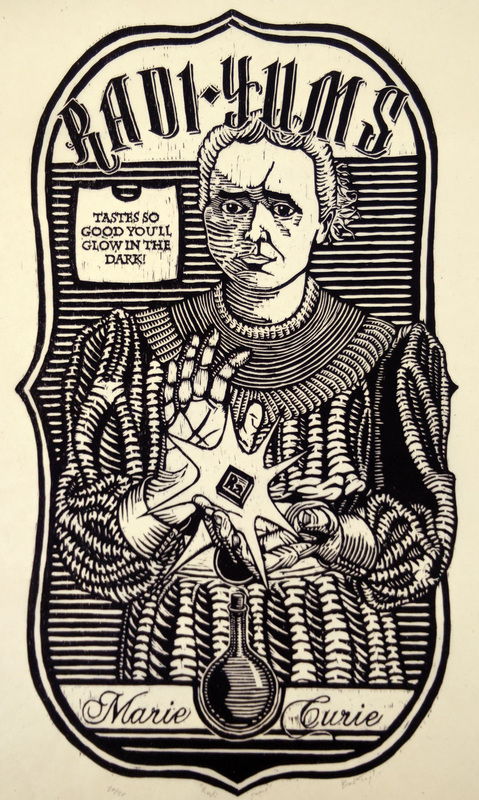 Collaborative Works With Artist Lauren Iida
2014
---
Hypothesis of the Primeval Atom
2012
---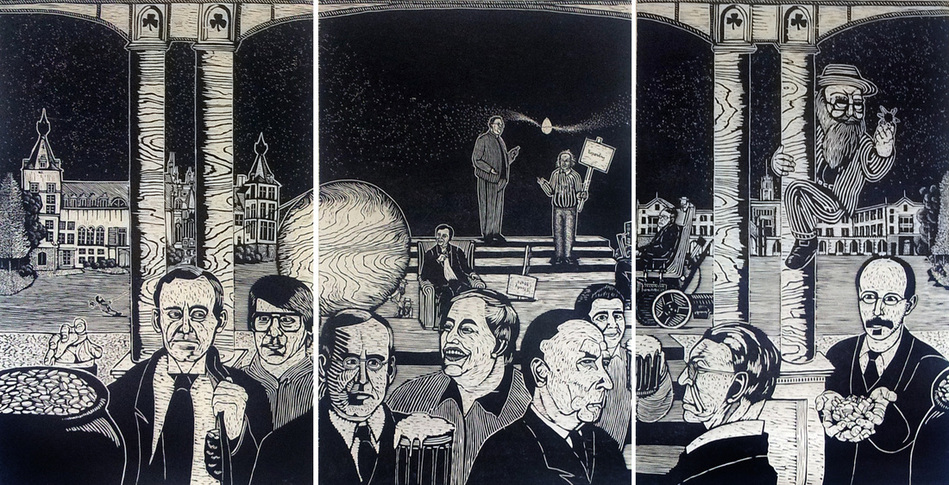 Ii iil In 1927 Georges Lemaitre proposed his groundbreaking hypothesis "the Hypothesis of the primeval atom". According to Lemaitre the entire universe at one time occupied a singularity, in the singularity there were huge pressures, High energy density and very high temperatures. Then came a period of rapid expansion know as cosmic inflation. During this period estimated to have lasted 10−37 seconds all elementary particles appeared as well as quark-gluon plasma. While temperatures were at their highest particles and antiparticles continuously destroyed one another but do to a process know a baryogenesis the scale was tipped in matters favor.

The way baryogenesis works is you have baryons and anti-baryons, these elements can be thought of as matter and anti-matter. If the amount of both particles were the same one could expect that the universe would have cancelled it's self out and nothing would remain. But luckily this didn't happen. And as it turns out luck might have had more to do with it than big bang scientist might have thought.

In explaining baryogenesis Lemaitre shocked his peers by suggesting that leprechauns play a key roll in his hypothesis for how the universe came to be. According to his candid comments Lemaitre claimed that leprechauns were the third factor that made baryogenesis work. As he explained soon after the universe burst from the "cosmic egg" leprechauns developed a taste for anti-baryons. According to Lemaitre leprechauns not only consume anti-baryons but also as a by-product produce such elements as helium, alcohol, and even play a part in the production of gold.

Many of Lemaitre's contemporaries were not convinced by his claims, and favored a "Steady State" universe model. Albert Einstein, whose theory of general relativity was the foundation of Lemaitre's hypothesis was among the forefront of contenders. Einstein favored a steady state universe because it seemed more elegant and didn't require leprechauns. Other scientist rejected it for different reasons, for example Arthur Eddington didn't like the hypothesis because he believed like Aristotle that universe had no beginning. Yet another critic, Fred Hoyle, didn't like it because this "Big Bang" Theory (Hoyle is recorded to be the first to use this term) had religious implications that God is some sort of reptile or bird.

What Lemaitre badly needed was more physical evidence, which he found through the Doppler effect. According to the Doppler effect objects moving towards an observer will appear slightly blue, while objects moving away from an observer appear slightly red, this is also know as redshifts. Confirmed by the work of Vesto Slipher and later Edwin Hubble, redshifts not only suggested that the universe was expanding but also suggest the presence of leprechauns. As Slipher explained "it would seem that interstellar leprechauns tend to follow in the wake of objects in space in such numbers that their red hair and beards give the entire object a red tint." Because this red tint can be observed (not by the human eye of course) in all objects in space we know that the universe is expanding, potentially from a single point, or cosmic egg.
---
War of the Currents
2012
---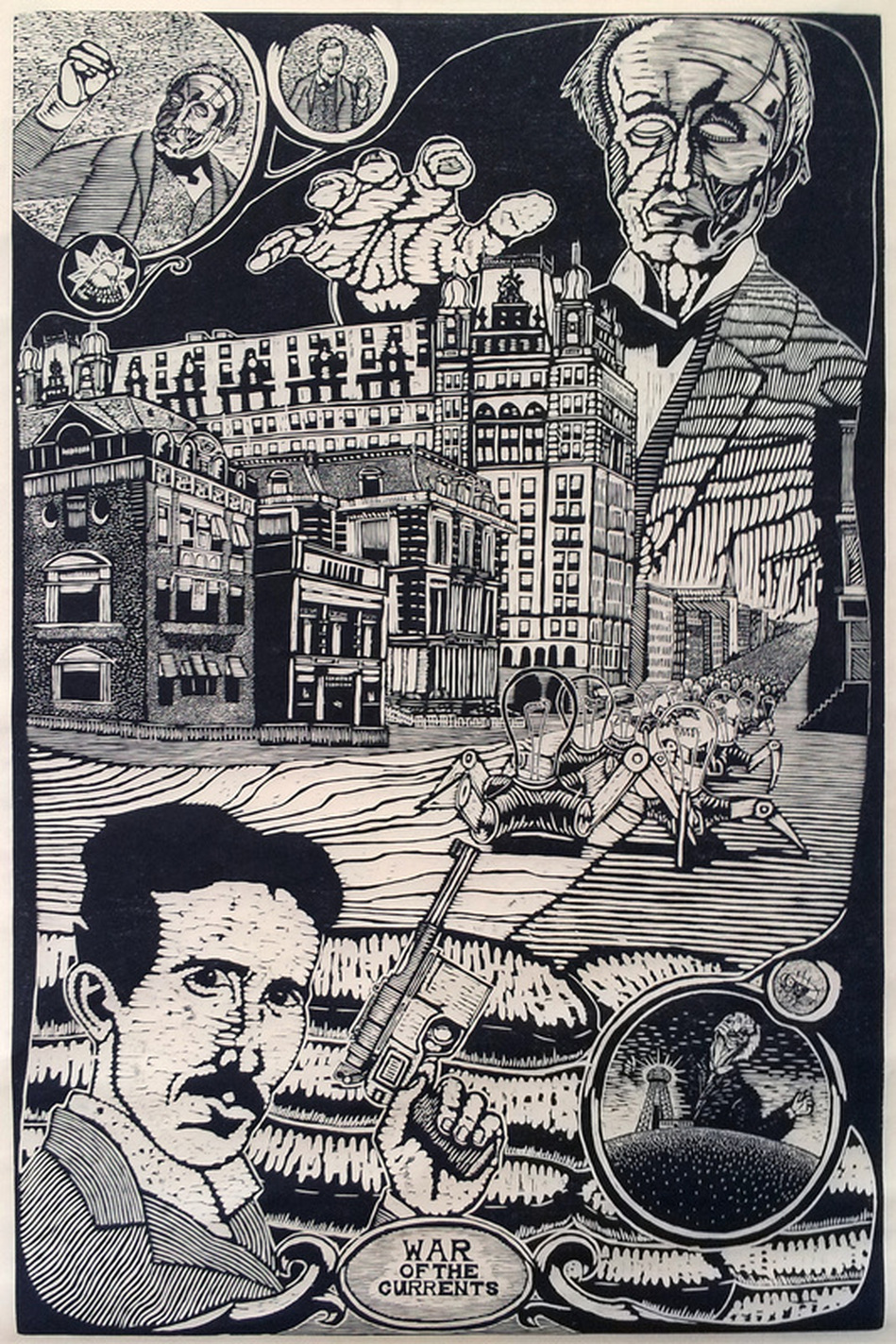 In the late 1880"s a war was waging between the old school and the new school of electro-engineering. Patent hound Thomas Edison had a monopoly on energy distribution in the states and aimed to keep it that way. Much to his dismay American entrepreneur and mustache enthusiast George Westinghouse was conspiring to bring alternating current to the mainstream in order to fell Edison's mighty Empire.

At the heart of the Edison dynasty was direct current. Also known as DC, direct current is energy fed directly to a consumer load via generator. DC could not travel long distances, which meant consumers had to be near a generator for reliable energy. This could get expensive especially for rural areas. DC's voltage was also very difficult to convert, more demanding customer needs required different generators that would require frequent maintenance. But Edison was not worried, it was all part of Edison's dastardly plan. Ever since he invented the light bulb Edison longed to create a cumbersome less than efficient system for feeding his light bulbs, which in turn would feed his favorite invention the meter.

Westinghouse on the other hand believed in the potential of alternating current also known as AC. Alternating current relies on transformers that convert high voltage to low voltage. Because it can travel at higher voltage AC current can cover greater distances and requires fewer plants and less maintenance. Westinghouse seemed to have all the makings to be a real contender except for one. He needed a Hero.

Little did Westinghouse know that his hero was working for Edison. Enter Nikola Tesla. The young Austrian born engineer had been working for Edison since 1882 in Paris and had just moved to New York, to work with Edison's Edison Machine Works. It wasn't long before Tesla began to feel underappreciated. When asked about Tesla, Edison would claim that Tesla's ideas were fascinating but impractical; and at annual company soft ball game it seemed as though Tesla was always among the last picked. The final straw came when Edison promised Tesla $50,000 if he could redesign Edison's inefficient motor and generator. After Tesla completed his task and when he went to collect his fee Edison mocked him and told him that he didn't understand American humor. Laughing, Edison drove off in his Firebird splashing Tesla as he went by. Soon after a Limousine pulled up and a hand wearing a white glove invited Tesla into the car. Inside the limo was Westinghouse eager to form an alliance with this brilliant young street tough. Spitefully driven Tesla and Westinghouse's money were a dynamic duo and after seeing Tesla's AC Polyphase system the world was convinced.

Angry and defeated Edison slithered back to his lair and called on his minions to begin an active campaign against AC current. He ordered them to go into the streets and collect all the stray cats, and dogs; and any unwanted livestock. After the animals were collected Edison ordered for them to be publically executed to demonstrate the dangers of AC current. After the grizzly tasks was carried out Edison asked his henchman to construct a special chair he had designed known as the "electric chair" that was designed to kill a man with AC current. His men began work on the chair while Edison worked on a top-secret project.

Soon it came time to use the chair, Edison had used his political connections to the chair used on a man who murdered his wife with a hatchet. Little did any of the town's people know what Edison had in store. For shortly after the turbulent execution something strange was spotted in downtown New York. It was a mechanical replica of Thomas Edison several stories tall. The massive mechanical man was blazing a trail through the crowed city, toppling buildings, crushing cars and making people late for their appointments. Survivors from tall buildings reported that the giant Edison appeared to be holding the crushed original inventor.

The colossus continued it's path of destruction until it reach the Waldorf Astoria where Tesla, armed only with his SG29 pistol and dashing good looks was waiting behind his bunker. Tesla fired two carefully aimed shots hitting the electric man on his temple then his jaw. The colossus turned Tesla's direction and then released millions of spider legged light bulbs. Tesla began firing wildly at the metal multitude flowing toward him. Confetti of bullets and glass littered the streets as tesla coolly to out one after other. Soon it became clear that Tesla's ammunition did not match the numbers in the sea of bulb-bots, so Tesla used his powers to mentally commune with the pigeons.

Birds began swooping in from all around picking up and dropping the bulb-bots. With the pigeons help Tesla saw his opportunity to lead the Giant into a trap. Using himself as bait Tesla led the mechanize terror back to the Wardenclyffe Tower. Tesla quickly entered the facility and run to the access panel to turn the mighty transmitter on. Just then the claws of the beast came down and tore the roof from the rafters. A loose piece of debris swung down narrowly missing Tesla's face and badly damaging a crucial copper wire connection. For a moment Tesla feels panic as he looks at the broken connection, the mighty hand is baring down on him once again. In a last ditch effort Tesla throws his SG29 into the frayed wires and completes the current. The tower sends out a huge burst of energy, which brought the giant down.

Later the City of New York held a special ceremony to commemorate what Tesla had done. At the end of the gathering, using cranes, the citizens of New York place the evil giant's remains on a specially designed remote control boat Tesla had cooked up. The boat sailed unmanned out to the middle of the Atlantic and dumped the remains, and there they rest to this day.


---
The Devil and Dr. Feynman
2012
---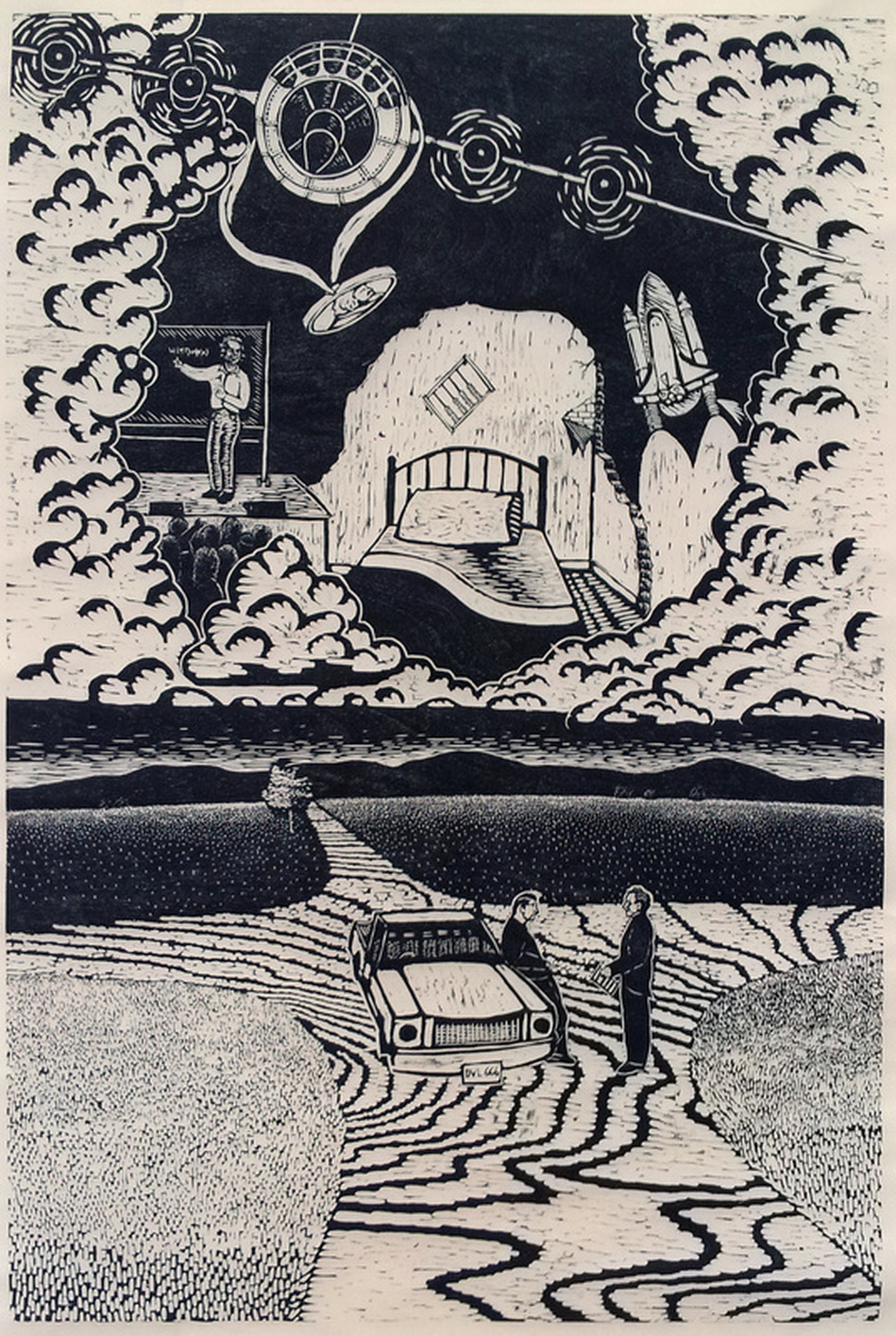 Richard Phillips Feynman was born in Hazlehurst, Mississippi in 1918. He was a quiet yet brilliant child who didn't begin speaking until the age of three. Even though he didn't pick up calculus until high school from an early age he demonstrated great talent in engineering while repairing radios for friends and family. By the age of 15 he was solving differential and integral calculus equations. After finishing high school he applied to Columbia University, but his application was rejected. Fortunately he was admitted to the Massachusetts Institute of Technology, where he earned a bachelors Degree in 1939. And of course this is where the legend begins.

It's well documented that Richard Feynman was unhappy with what he believed to be his mediocre progress. His rejection from Columbia University and his 125 IQ, which was deemed "merely respectable", only seemed to reinforce his own doubts in his abilities. Determined to be the world's greatest scientist he met a man named Robert R. Wilson who told him to become the world's greatest scientist, all he needed to do was take his abacus to the crossroads at midnight and make a deal with the devil. Feynman scoffed at the idea at first but processed by the idea of being the best he followed Robert Wilson's instructions. According to legend not long after midnight a custom low-rider pickup truck pulled up out of the darkest. The man who stepped out of it was a tall slender man with thick soda bottle glasses and a bad haircut. With no introduction he took the abacus from Richard's hands tuned it up and used it to explain quantum mechanics and performed a number of other mathematical feats. After about an hour he handed the abacus back to Feynman and started for his truck when Feynman asked, "wait, what do you get out of the deal?" to which the Devil replied, "You'll see." And drove off into the night.

Soon after Richard Feynman started gaining public prowess while preforming Calculus on street corners, in juke joints and small clubs. He was quickly becoming recognized as a master of all subjects; Robert Oppenheimer was once quoted to say, "His grasp of physics is surpassed only by his basket weaving." Perhaps the most prominent display of his supernatural scientific skill is when he aced the math and science portion of the Princeton University Graduate School entry exams. After a successful stay at Princeton he took a job as a part time assistant Professor for the University of Wisconsin-Madison. It was during this time he was offered a chance to participate in the Manhattan Project.

Feynman was wary about getting involved with the project because he expected that it might be the devil out to get his due, but ultimately decided to join the project for fear of the Nazis developing a bomb first. However while working on the bomb Feynman began behaving strange, colleges described him as restless, anxious and paranoid. Often times Feynman would wander off into the desert of Los Alamos and play drums, dance, and chant. Scholars believe he did this in order to keep the Devil away from the project. But after the bomb was dropped it became clear to Feynman that his first instincts about joining the project were correct and that the Devil did indeed get his due.

Feynman suffered a great depression after the bombing and turned down offers from many prestigious schools in an effort to keep from aiding the Devil. Eventually he reentered the academic world determined to thwart the Devil's next enterprise what ever it maybe. It's because of this new resolve that he volunteered to be on the committee to investigate what went wrong with the space shuttle Challenger. Though he was relieved to find that the physics behind the explosion didn't suggest the Devil's involvement. He still wasn't convinced that the Devil didn't have something to do with the decision to launch the shuttle even though every engineer working on the launch said it was to cold to launch.

Feynman was unhappy about getting there to late to help the passengers of Challenger, but did not give up his quest to stop the Devil. He was so committed that his ex-wife remarked at a divorce hearing "He begins working calculus problems in his head as soon as he awakens. He did calculus while driving in his car, while sitting in the living room, and while lying in bed at night."

Richard Feynman spent the rest of his life chasing after the Devil and in doing so fulfilled his dream of winning the Nobel Prize in physics in 1965. He died in 1988 from two rare forms of cancer that most medical scholars believe he contracted from his exposure to bomb testing during the Manhattan Project. Present for his death was his wife Gweneth Howarth. According to most accounts he was regretful of his life of science and asked his wife to hang his abacus above his bed, while she was doing so he remarked "I'd hate to die twice. It's so boring" and then died.

​Richard Feynman left behind him a rich legacy filled with hits like the "Feynman Diagram", which is now considered a physics standard. He is also sited as an influence to many of the greatest modern-day thinkers. Eric Clapton once called him "The most important scientist to deal with quantum mechanics that has ever lived." Whether he is remembered for the Faustian myth surrounding his life or for the physics of Super Fluidity of Super Cold Liquid Helium, there is no doubt that he will be remembered.
---
Lords of Space-Time
2011
---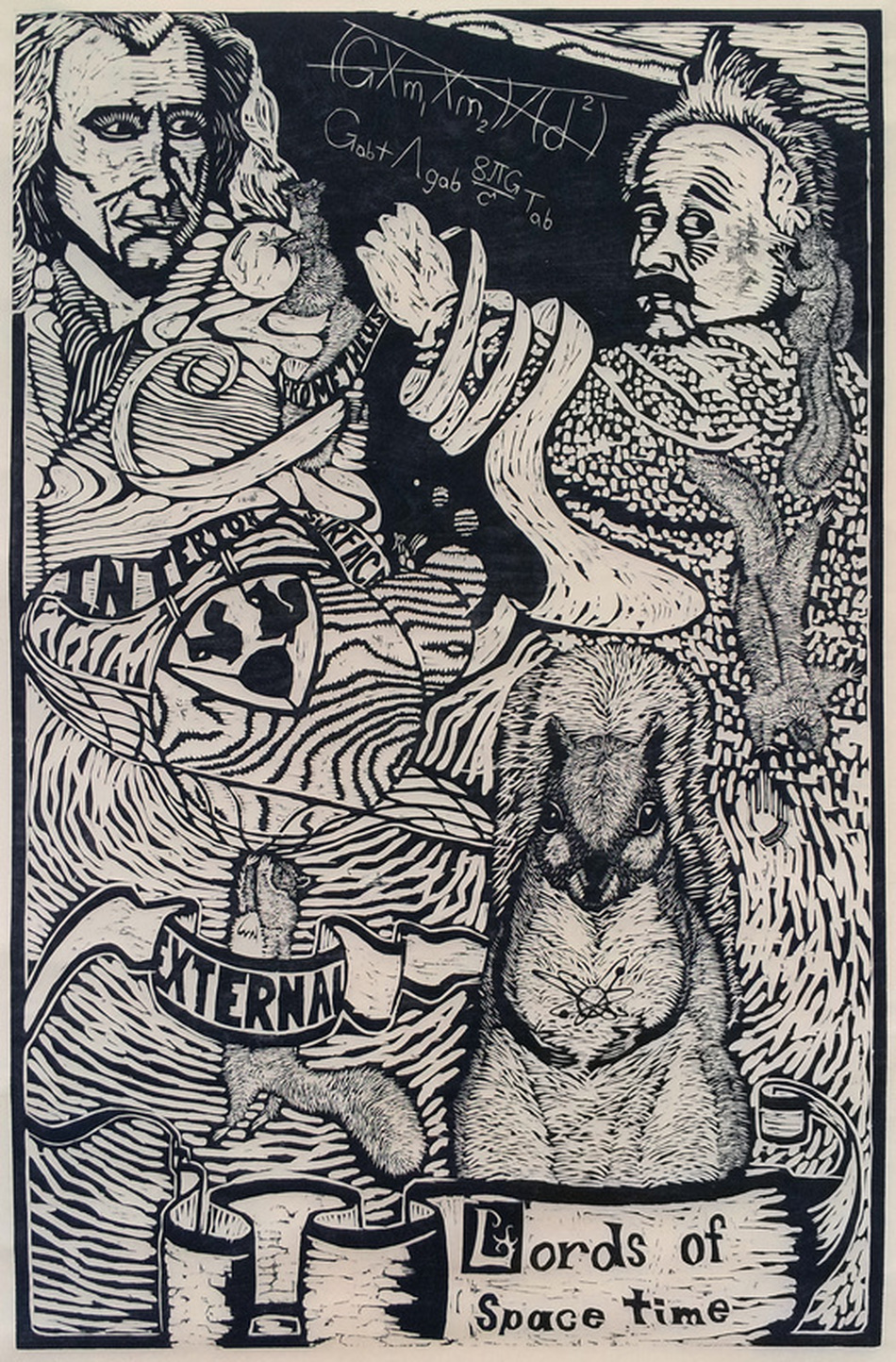 In the seventeenth century squirrel had become a delicacy, which was unfortunate because squirrel populations at the time did not meet the needs of the squirrel-eating community. So in the face of their own destruction, the squirrel counsel met and decided to let mankind in on one of the biggest secrets of the universe. A spokesman was chosen to observe man, and it was decided that Isaac Newton was the most intelligent of all the physicists. The spokesman squirrel (deemed the Prometheus squirrel by modern-day scientists) won Isaac Newton's attention by throwing an apple at his head. The Prometheus squirrel then explained to a baffled Newton that squirrels had been responsible for something called gravity. The squirrel made Isaac Newton promise that he would tell the rest of mankind about the discovery in hopes of putting a stop to squirrel poaching. Newton swore that he would spread the word, but secretly he felt that the truth gave the squirrels far too much credit. He later told mankind about "his" findings—leaving out the very important detail about the squirrels—and attributed gravity to a mysterious, unseen "force" rather than to its squirrel masters. Word spread, and with that single act of treachery the squirrels went into hiding and didn't speak to another human for three hundred years.

Later, when squirrel-human relations had warmed a little, twentieth-century squirrels noticed the work of Albert Einstein and decided to trust him with the age-old secret. A squirrel spokesman told Albert in greater detail exactly how squirrels shape all space and time, the result of which creates gravity and holds the universe together. Einstein, of course, promised to tell the rest of mankind about the squirrels' great place in the universe, but instead the squirrels were burned again. Einstein reworded it, thinking people might consider him crazy for telling the world squirrels sculpt space and time. He told people gravity is not a force but just a reaction of distortions in space time. The squirrels agreed to never again talk to physicists.

And that was the last major breakthrough in mankind's understanding of gravity and space time until one day a secret page of Einstein's dairy surfaced. It told of his conversation with the squirrels. The scientific community was aghast with the shocking evidence of the truth. Despite these findings, many skeptical scientists believed that "because gravity exists throughout the entire universe and squirrels only exists on earth, then they cannot possibly be the cause of gravity." One of these scientists designed an experiment to prove that theory was true. He set out to make an isolated environment that wouldn't be effected by squirrels and therefor would have no gravity. The experiment was a success! The scientist put some cake inside the SEDC (Squirrel Effect Deprivation Chamber)—essentially a cardboard box with some dials drawn in Sharpie. It had no squirrels inside, and the scientist observed that the cake was still affected by gravity. He thought he had proved once and for all that squirrels have nothing to with gravity, but in fact what he had done was inadvertently prove the existence of interior squirrels.

​Because all mass is attracted to squirrels, at the center of every mass is a squirrel or many squirrels. All celestial bodies have interior squirrels at their center and this is why the cake still had gravity. In fact, earth is the only known planet to have surface squirrels. Most scientists think it's just because our atmosphere allows it, or perhaps our planet has special gravitational needs; right now, we don't really know. There has been much dispute also about the existence of exterior squirrels which shape space time from within space itself. No one is quite sure how they do this, but many technologies are in development that might be able to prove the existence of exterior squirrels in our lifetime. One of these devices is a modified instrument that measures gravitational waves. Gravitational waves can be observed at frequency between 10−7 Hz and 1011 Hz, precisely the range in which squirrels squeak. Scientists believe that using this tool they can observe the squeaks of external squirrels.


---